Punjabi Dum Aloo – baby potatoes cooked in a spicy curry made with yogurt and a touch of cream.
This is a popular North Indian recipe and one that was made very frequently in my house.
Method
1- Start by boiling the potatoes. Place a pot of water on medium-high heat. Once it heats up a bit, add the potatoes to it and let the water come to a boil.
2- When the water comes to a full boil (it will take some time), turn off heat, cover the pan with a plate and let it remain like that for 15 minutes.
This will cook the potatoes just right and they will not be over-cooked.
3- Then drain using a strainer and wash the potatoes under cold water. Peel the potatoes, the skin will come off easily.
4- Use a toothpick to prick the potatoes all over, do this with all the potatoes and then set them aside.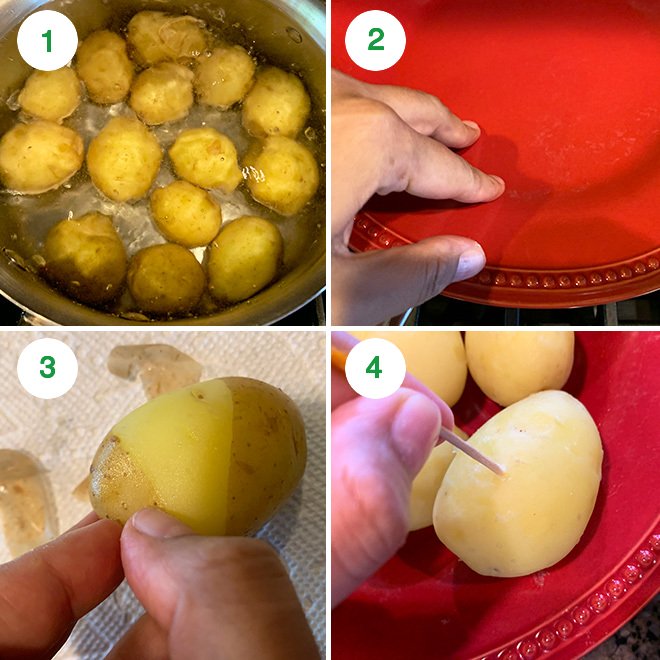 5- Now let's roast and grind the spices. Place the whole spices- 1 tablespoon coriander seeds, 1/2 teaspoon cumin seeds, 1/2 teaspoon fennel seeds, 4 green cardamoms, 2 cloves and 1-inch cinnamon stick into a small pan on medium heat.
Roast the spices for 2 to 3 minutes until fragrant, be careful not to burn them.
6- Then let them cool down a bit and then transfer to a spice grinder and grind to a fine powder. Set aside.
7- Heat 2 teaspoons mustard oil in a pan (make sure mustard oil is well heated before adding anything to it else it will have the raw taste). Once hot,  add ginger, garlic and green chili and cook for 1 minute.
8- Then add the onions and cashews and cook for 3 minutes until onions soften.
9- Remove pan from heat, transfer mixture to a blender.
10- And blend to a fine paste. Set it aside.
11- Now heat 4 tablespoons of mustard oil in a kadai/work on medium heat (again make sure mustard oil is really hot before you add anything to it else it will have the raw smell). Add the boiled potatoes and fry them until golden brown from both sides.
12- Once golden brown from both sides, remove the fried potatoes on a plate. Once they cool down a little, prick them again with toothpick.
13- To the same oil, now add 1 teaspoon cumin seeds and 1 bay leaf. Saute few seconds and then add 1/2 teaspoon hing.
14- Then add 1 teaspoon kashmiri red chili powder and fry for few seconds so that it gets a nice red color.
15- Add the prepared onion-cashew paste and mix well. Cook for 2 minutes.
16- Then add the ground spices (that we had grind earlier) along with 1/4 teaspoon black pepper and mix well and cook for 1 minute.
17- Remove pan from heat and add the whisked (and room temperature) yogurt to the pan.
18- Stir the yogurt continuously as you mix it with the curry so that it doesn't separate.
19- Put pan back on medium heat and continue to stir and let the mixture come to a light boil. Cook for 3 to 4 minutes. Then add salt, remaining 1/2 teaspoon kashmiri red chili powder and turmeric.
20- Cook for 4 minutes until you see oil on top of the masala.
21- Then add the fried potatoes to the kadai.
22- Mix well and add 1/4 cup water. Cover with a lid tightly and "dum" cook for 5 to 6 minutes on low heat.
23 & 24- Then add cream, sugar, garam masala, kasuri methi. I added additional 3/4 cup water here. You can add more or less depending on the amount of curry you want. Simmer 3 more minutes and turn off heat.
Cover with a lid and let it remain like that for 5 more minutes before serving.
Garnish with cilantro and serve punjabi dum aloo with rice or naan.