Tawa Paneer is a spicy semi-dry paneer dish which is made on a flat griddle (tawa), hence the name tawa paneer.
It has small cubes of paneer cooked with onions, tomatoes and lots of spices. Makes a great accompaniment to naan and paratha.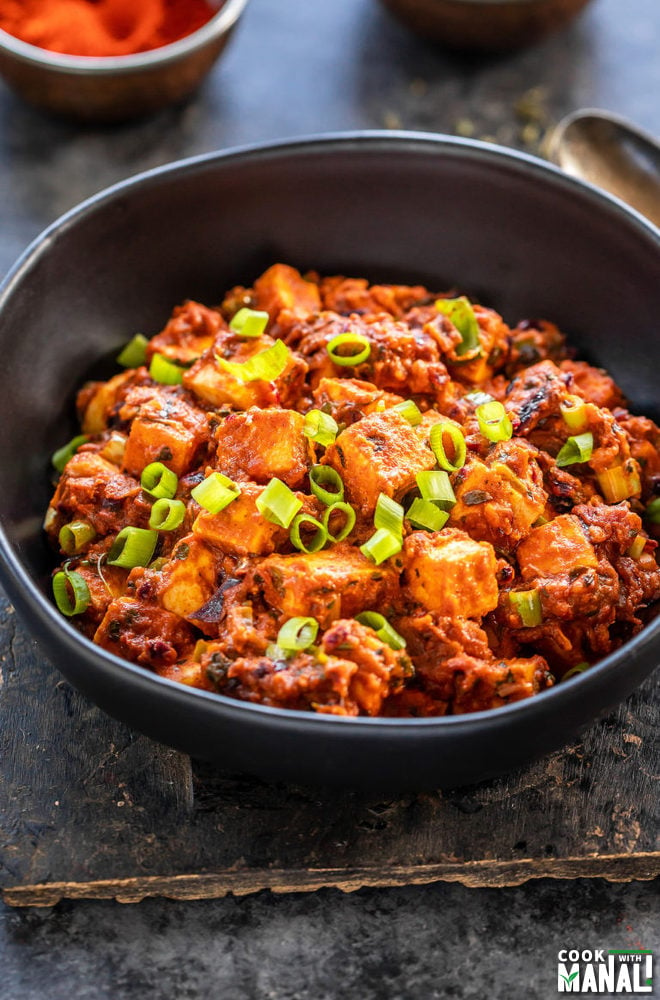 Ingredients
Paneer: I have used store-bought paneer for this recipe. As always, I first soaked the paneer in warm water for 20 minutes and then used in the recipe.
A lot of you have problems with the paneer turning chewy. Well if you are using store-bought paneer then do soak in first.
Also, never over-cook your paneer, that makes it chewy. And if you make it at home, then use straight away since that's very soft and nice to begin with.
Tomato puree: Other than pureeing 2 medium tomatoes, I have also used store bought tomato puree here.
The store bought tomato puree not only gives the dish a nice color but also adds to the rich taste and flavor.
I highly recommend not skipping it.
Onion: this recipe used red onion as well as green onion. The green onion give this dish a lot of flavor.
I use them towards the end but if you want you can add some of it in the beginning along with the red onion.
Green chilies: they add spice to the dish. You can add more or less of the chilies according to your preference.
When I write green chilies for Indian recipes, I am referring to thai green chilies.
You can use serrano peppers or jalapeños if you do not have access to these thai chilies.
Spices: the recipe uses coriander powder, garam masala for the flavor, there also amchur (dried mango powder) which gives the dish a slight tang.
I love using kasuri methi (dried fenugreek leaves) in paneer recipes, adds such a nice flavor and aroma. For this recipe, I have used it in the marinade and also in the curry.
Kashmiri red chili powder used here is used mainly for color, it is not hot. So do not replace it with regular chili powder else the dish will become very hot.
Cream: I use a splash of cream in the end, it is just 1 tablespoon so if you want you can skip that.
It is not going to make or break the dish. It helps balance the flavors that's why I add it.
Making it Vegan
You can easily make this recipe vegan. Here are the substitutions.
paneer: substitute with extra-firm tofu.
plain yogurt: substitute with plain almond milk yogurt.
cream: you can either skip it or substitute with coconut milk.
Method
Before you begin, when using store bought paneer, soak it in warm water for 20 minutes. Then drain the water, pat dry the paneer and cut it into small cubes.
1- To a bowl add yogurt (make sure it's thick yogurt, if you don't have thick yogurt, drain yogurt using a strainer for few hours and then use in the recipe) and mix until smooth using a whisk.
Add 1 teaspoon kashmiri red chili powder, 1 teaspoon kasuri methi and 1/4 teaspoon salt. Mix everything.
2- Add the small paneer cubes to the marinade and mix until all the paneer pieces are coated with the marinade.
Cover and refrigerate the bowl for 15 to 20 minutes.
3- After 15-20 minutes, heat 1 tablespoon oil on a tawa/flat griddle on medium heat. Once the oil is hot, add the marinated paneer pieces in a single layer.
4- Cook for around 5 minutes until very lightly browned, you don't want to make the paneer hard so don't over- brown it. Remove on a plate.
5- To the same tawa, now add remaining 1 tablespoon oil and then 1 tablespoon unsalted butter.
Once the butter melts, add the onion and cook for around 5 to 6 minutes until onion starts becoming golden brown.
6- Then add the ginger and green chili and cook for 2 minutes.
7- Add the pureed tomato and store bought tomato puree and mix. Cook for around 5 to 6 minutes until the tomatoes cook completely.
Since we are cooking on a flat tawa, the masala flows to the side, keep scrapping the masala with a spatula from the sides and pushing it to the center.
8- Once tomatoes are done, add the spices- coriander powder, garam masala, kashmiri red chili powder and amchur. Also add the salt. Stir and cook for 30 seconds.
9- Then add 1/2 cup water, mix it with the masala. Push the water towards the center using a spatula if it flows towards the sides.
10- Then add kasuri methi, cream and cook for 1 minute.
11- Add the pan-fried paneer and green onions.
12- Cook for 1 to 2 minutes. Do not over-cook the paneer at this point, else it will turn chewy.
Garnish with more green onions and serve tawa paneer hot with parathas, roti or puri.